Materials
Required Textbook: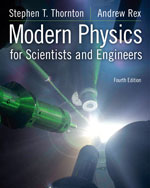 Title: Modern Physics for Scientists and Engineers, 4/e
Authors: Stephen T. Thornton & Andrew Rex
Publisher: CENGAGE Learning/Brooks Cole
ISBN-13: 978-1-133-103272-1
ISBM-10: 1-133-10372-3
Need to purchase a copy? We have asked the University bookstore in the parking garage next to Newcomb Hall to order the book. You can pick it up there or you can order the book online. Compare prices at:
Directly from the publisher
Our experiences in previous years were that several students had some difficulty obtaining the book within a few days from Amazon.com and Barnes and Noble despite what they tell you. Others had no trouble. The publisher is the surest way and has a competitive price. You can also order the Student Solutions Manual directly from the publisher. Make sure you obtain the 4th edition of the Student Solutions Manual (2013 publication date.).
You may find the Student Solutions Manual to be useful, but it is not required. It has solutions to about 25% of the end of chapter problems. The Student Solutions Manual is available for purchase directly from the publisher.